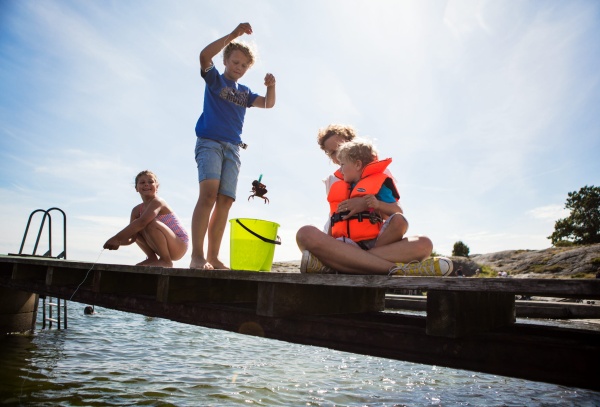 On the campsite there is a child friendly, beach with shallow water and it is also possible to take a bath from the cliffs or jump from a jetty at the harbour. One favourite thing to do for children are fishing for crabs by the edge of the water.
You can also rent a rowingboat, kaya or a pedalo for fishing and boat trips to our nearby island. If you have your own boat we have guestplaces in the harbour.
There is a lot of things to experience and do in or on the water but on land there is also a lot of activities, we have a playground for the children, a miniature golf course or a tennis court . Take talk a walk at the cliff or to our clostest summercafe at Töllås sheepfarm.
There are lots of nice sites and hideaways near by, there is lots of small car free island that you can come to by a ferry, and lots of restaurants and cafe during the summer season. There is also possible to find good hiking trails on Orust both near the water and in the forest.
When out on an adventure remember to respect our nature and bring the trash back.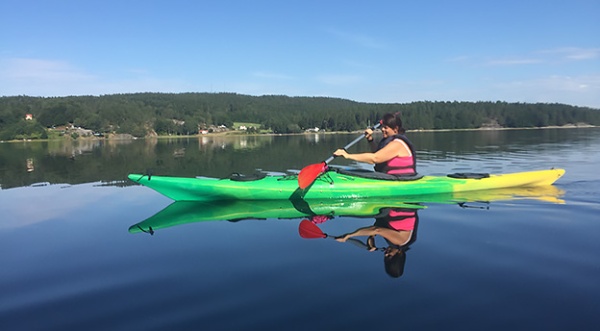 Rent a kayak!
Come kayaking! Paddle on a beautiful and calm fjords water and experience Bohuslän at its best - on the water. Gliding soundlessly across the surface and spotting both wildlife and the seafloor below is a lovely experience. That's how clear the water is. Make a stop for a swim or a sandwich.
No previous experience needed, and kayaking is a quick study.
Some interesting places to visit within the hour from the camping. Follow the links to learn more. You also find the places plotted on the map underneath.