A small, quiet and beautifully located family campsite on the northern Orust, in the middle of Bohuslän. Here you can come and just take it easy. From many of the camp sites you can see the water.
The campsite's environmental awareness is to be close to nature and aims to be climate neutral by focusing on recycling, self-generated electricity and solar water heating. Organic products have a priority in sales and cleaning.
The campsite consists of 110 places, all have 10A electricity. For those with tents, we have 5 tent areas.
We also have 9 cabins located right on the waterfront, facing west. You can sit on the patio and watch the boats peacefully gliding in and out of the harbor. The cabins have a private service building, very close, with toilets and showers.
For larger groups, we have Storstugan with five small rooms, kitchen and dining room. It has a large terrace, which also has views of the harbor.
The harbor has the inspiration for the camp's logo, the replica of a beacon created by Gustav von Heidenstam in the mid-1800s. The original was on Gäven at the inlet to Lysekil . Unfortunately, the original blew over, but the replica adorns the harbor since the camp's 50th anniversary in 2009.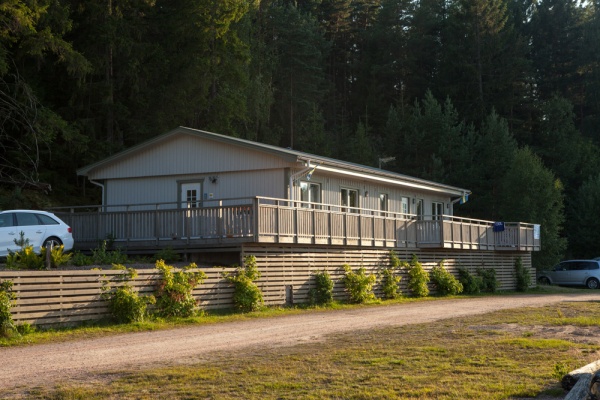 Storstugan
Storstugan is the accommodation to suit both small and large groups. 5 rooms with 3-4 beds each.
Toilets, showers and kitchen are on the premises. The kitchen is fully equipped.
So if you are interested in fishing, planning family gatherings, want to rockclimbing, watch football - or bicycle competitions and more, this could be the thing for you. Mail info@vindonscamping.se for inquiries.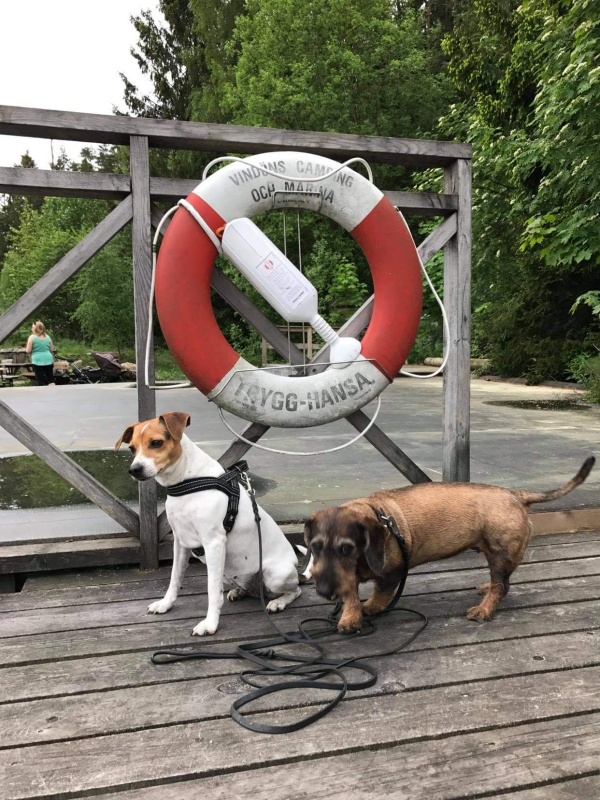 Vacation with your dog
Are your furry friends with you on holiday?
There is plenty to discover together!
At the dog yard they can stretch their legsand there are several places to get wet, but avoid the small beach.
To rinse salty paws, there is a dog shower behind the recycling.
We have cabins where dogs are welcome!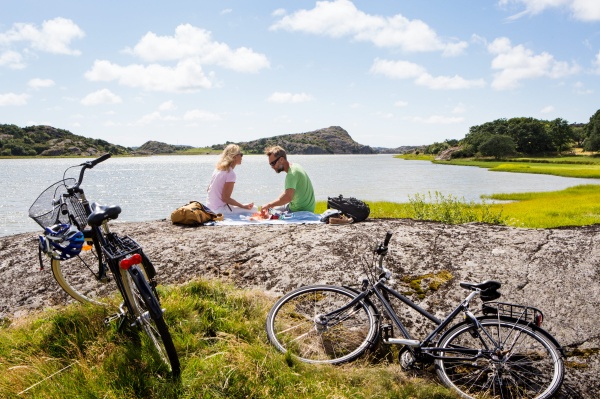 Rent a bike
There are many ways to experience Orust, and in collaboration LO bikes in Ljungskile we are renting out bikes on our campsite.
Enjoy the special places in our vicinity, or take a days excursion.
There are cafés nearby, or why not pack a picnic in the basket?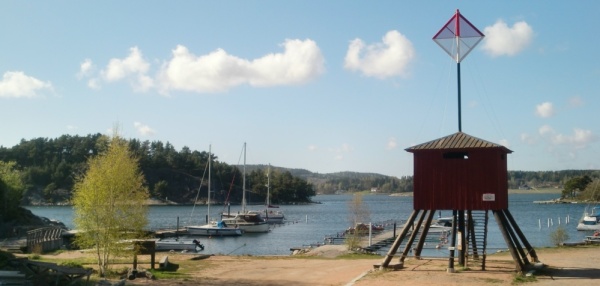 The harbour
Coming from the sea? Or do you have a boat in tow? Then we have berths for you! From dinghy to ship, we can accommodate most.
Berths are between 2-4 m and the boat can be launched either by our ramp or with our own crane. There are also boats for hire through the reception.
The port is able to empty septic tanks and visiting boats have access to the campsite facilities.
Environmental thinking
We protect the environment by trying to be as carbon neutral as possible. Most deliveries are made by electric vehicles.
Among other things, we have our own well and we use solar energy for heating and power production.
We keep water consumption low with low-flush toilets, self-closing taps and efficient shower heads.
All our cleaning products and office supplies are eco-certified and convenience are a range of organic products.
We work for a living countryside where we work with local businesses and employ staff from the local area.